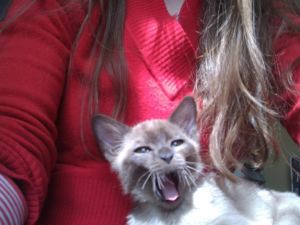 Burmese cats are gorgeous. Everybody who's ever met one knows this. They're affectionate, playful, intelligent, cheeky, gregarious and very beautiful. So 5 years ago, when I brought my bundle of joy home, I managed to conveniently forget that other adjective often associated with Burmese cats – hungry.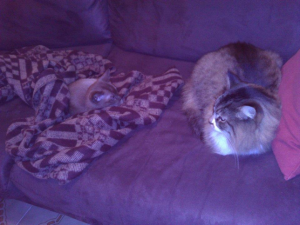 Withnail (as he was named) settled into his new home quickly, galloping up and down the hallway, roughing up his new uncle Monkey, and generally getting up to cute and naughty antics. As is to be expected of a kitten, he was very demanding for food. However, as he aged, though he settled down, his appetite did not change at all. He would constantly meow for food when I was eating and for at least 2 hours prior to his meal time. He would jump up into the sink and "clean" any dishes I'd left unwashed in the sink. He even developed gastrointestinal problems as a result of this scavenging.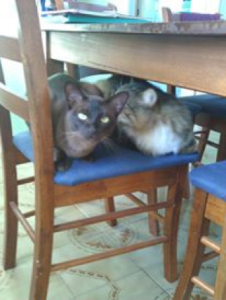 Burmese cats have a genetic predisposition to diabetes, particularly if they become overweight. They often become overweight because they LOVE to eat. They are also often not terribly particular about what they're eating either. Withnail has partaken in many culinary delights from lettuce and cucumber, to hair elastics. He is particularly partial to bread or any other baked good. A friend of mine and fellow veterinary worker's Burmese male once ate a whole block of milk chocolate.
Withnail is a smallish Burmese, and weighs 4.5 kg, with a body condition score of 5/9. I wanted to do everything I could to keep Withnail at a healthy weight and body condition. I see a lot of obesity-related illnesses in my work as a veterinarian, and I wanted to avoid these as much as possible for my cat. I also did not want a placid, overweight, lethargic cat. I wanted him to keep his energy and playfulness (and his waistline). However, at times, he was very difficult to live with!
For years I had known that feeding zucchini overweight or obese cats was a useful weight loss tool. Many human foods are toxic to cats if fed in large enough quantities. However, feeding zucchini is a safe way to bulk up their food intake with very little impact on their calorie intake. I had seen evidence of its success working with Dr Linda Fleeman and her diabetic feline patients. Weight loss makes diabetic remission much more achievable.
Many cats show behavioural changes as they lose weight. It is not uncommon for a hungry cat to transfer their hunting behaviours onto their furry relations, or even their loving owners! Having a full tummy can ease this weight loss transition and some cats will eat 2-3 zucchinis a day in order to feel full but continue to lose weight. I had never seen this mechanism used to prevent obesity in a lean cat. But I thought it was worth a try. I figured the extra fibre would help with any residual gastrointestinal problems as well.
The first time Withnail was offered zucchini, he ate it straight. That was only the first time. However, he has continued to eat it very well in his food. I have gradually built up his intake and he now eats approximately 4 large zucchinis per week.
You may well be wondering how does one get a cat to eat zucchini? I follow Veterinary Nutritionist Dr Geraldine Blanchard's method. The trick seems to be to feed it with their regular food, and to disguise it as the food in which it's hidden:
Step 1. Cut up the zucchini.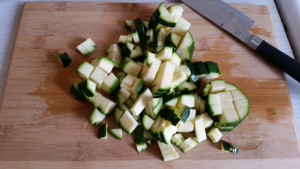 Step 2. Cook the zucchini.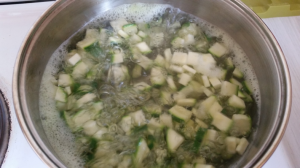 Step 3. Store the zucchini.
Step 4. Defrost the zucchini.
Step 5. Feed the zucchini.
They key to success seems to be to introduce it gradually. Mix through one or two pieces per day at first, and then increase this amount by a little each week. Most cats (even if they're not Burmese!) will accept the food after a few weeks. Monkey now has a nibble at it too and he is a 12 year old moggie.
Our lives have changed. Withnail is happier, calmer, more relaxed, more affectionate and has no more gastrointestinal problems! Our bond is now much closer and stronger, and he gets to keep his attractive figure.
So if you have an overweight cat, or a cat you fear may become overweight, play around with zucchini. Give it time to be a part of your routine. It might just change your life too.
Story by
Dr Sarah Pierard BVSc PgCertVS MVS